This State Of The Art Mailer Review will cover all of the features and benefits of using this system.  I have been personally using the system for a few months now and this is my initial impression of this particular mailer.
What is State Of The Art Mailer?
State of the art mailer is a system designed by Jay Pause and Brad Webb.  It is a "safe-list" type of mailer.  As a free member you can mail 500 random members every 7 days with a link to your website or offer, and members are then directed to view your website or offer through your system email to earn credits for their own state of the art mailer marketing campaigns.
As of this posting, State of the art mailer has an Alexa traffic ranking of 6,990 which is very respectable considering it's current membership levels are at 16,327.  That means that a very large portion of it's members are actively using their mailer to promote! 
As far as other mailers go this one is fairly new and sits number 2 behind List-Joe which has a traffic rank of 3,825 with over 80,000 members and right in front of ViralUrl (11,494 alexa-100,000+members).  Again all numbers are accurate as of this posting date.  I would also say that State of the art mailer's numbers are excellent for it's age considering that the other 2 have been around a lot longer.
What do you get as a "paying" State Of the Art Mailer member?
There are multiple button levels to choose from.  The cost goes up depending on how many members you want to be able to mail to and the frequency of your mailings.  Free State of the art mailer members can mail every 7 days where as paid members can mail every 3 days.
When you upgrade your button level, you are increasing exposure to your ads by 300, 600, 1000, 1500, and 2000 percent as the buttons become available.  Their mailer is "virally engineered" to explode your click rates like you've never seen before.
As the site grows, so does the price of these button levels.  Once you upgrade, you are LOCKED IN to that price for life.  Which is a pretty good deal if you ask me.
Does the State Of The Art Mailer traffic convert?
In my personal experience, any of the traffic you will receive from these types of mailers is highly qualified traffic.  Meaning that the folks coming to your website are going to be directly involved in the internert marketing industry or most likely very closely related to the internet marketing industry.  Whether or not that traffic converts is up to you and your sales copy skill level.
Overall, Jay Pause and Brad Webb have really put together a "State Of The Art Mailer", just like the name says.  There is a ton of promotional tools inside plus some inovative marketing strategies that you'll just have to see for yourself!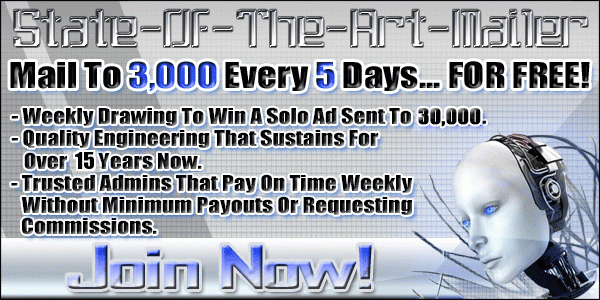 P.S. If you're looking for more Leads and Sales, check out this Facebook Marketing Cheat-Sheet
Check Out Some Other Awesome Posts On This Subject!!!